Buying The Best Waterproof Outdoor Jacket
Buying the best waterproof jacket for walking, biking, camping and other outdoor activities, can be time consuming. Waterproof jackets have progressed rapidly over the years, and new technologies can be confusing. We decided to put together this quick guide, to help you understand what's on offer.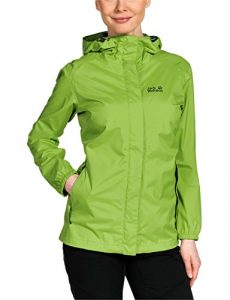 Waterproof Jackets and ponchos (non-breathable)
These are usually solid layers of fabric designed to keep the rain and wind out. They can feel a little like wearing a plastic bag and work ok as long as you're not very active. As soon as you start to warm up or sweat, things change. If you start to sweat any moisture is trapped, so you'll very quickly get damp. Not pleasant or comfortable.
Having said this, using a non-breathable waterproof jacket during certain activities can sometimes be acceptable. You'll  need to control your temperature well though, using zips and flaps to stay ventilated or occasionally allow some fresh air to enter from underneath a poncho.
Waxed Cotton Jackets
Country style jackets often use non-waterproof fabrics and then coat them with a type of wax, which makes them repel water. They will need regular treatments to keep the wax effective, especcially where it has rubbed off the fabric over time. These jackets tend to be heavy and bulky but they can be very waterproof, and are commonly used for low-intensity activities like walking (but not hill walking).
Breathable Waterproof Jackets
This is  now the most common type of waterproof jacket. There are many different technologies on offer, and sometimes the different options can seem confusing.
There are also various design options available, and it helps to understand these when you're making your selection. Some of them are for functional reasons rather than aesthetics, so it's good to consider what you'll actually be using the jacket for before you choose. For example, a climbing jacket will not necessarily be the best choice for general walking, and vice versa.

Choosing the Best Hood
Cold ears, wet hair, and water trickling down your back can be enough to make an outdoor adventure pretty miserable, so a good hood is really important. You can go for removable hood or a permanent one, the choice is up to you, but either way it should be adjustable and have a peak that keeps the rain out of your eyes. If you plan on wearing a helmet under it, consider a hood that's designed for this.
Zips and Closures
Fully waterproof zips can add cost to a jacket, so most waterproof jackets  just use showerproof zips that will be partly effective but will eventually start to let in water. Plastic coated zips will keep rain out for a little longer, but it's a good idea to look for a waterproof channel of fabric behind the zip that will help funnel any water down and out of the bottom of the jacket. Cuffs will usually include a velcro fastener to seal tightly around the wrist and keep out drips. The neck area should be fitted well enough to prevent wind and rain getting inside, however some rain finding it's way inside is inevitable.
Types of Ventilation
Even the highest specification breathable waterproof fabric will not manage to let out all your sweat, so the main way of regulating your temperature is by using the main zip and any additional ventilation openings such as armpit vents. Jackets that are aimed at high-intensity activities, such as running or mountain biking, typically have more ventilation.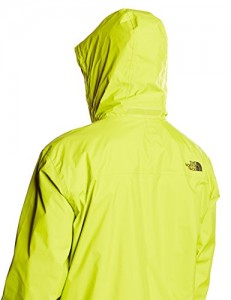 Jacket Pockets
If you're out in the wind and Rain, cold hands can be a problem, so hand-warming pockets can be really useful. Pockets should have rainproof zips, and can also have rain flaps, which should help to keep most of the water out. Internal pockets should ideally be totally waterproof. If you're going to carry a map, having a specific map size pocket is a good feature Some jackets specific to certain activities such as running, may have arm pockets. These can be really useful since items in them won't bounce around as much as they would in other pockets.
Jacket Length
Short jackets  can give more freedom of movement and feel less restrictive, but are less suitable for some activities. For example, if used with a harness  for climbing you may end up with a gap between the jacket and trousers, especially if the arm length isn't very generous and you're reaching for climbing holds.
Medium length jackets tend to be all rounders, and are designed to go over trousers and help water funnel down over your backside and waist. Generally good for most activities.
Long jackets are are aimed at activities with a lot of reaching or bending movements, such as climbing or cycling. They will prevent a gap opening  between your layers and exposing an area around your lower back.
Jacket Waterproofing
Although there are some systems that work in a completely different way, such as Paramo and Buffalo, we'll look at  the two most common methods of "waterproofing".
Waterproof Coating
The process generally involves having the inside face of the outer fabric of the coat sprayed with a form of polyurethane. The varios panels of fabric are then sewn together and the stitching lines are taped over with a seam-sealer. The end product is an almost solid coating of plastic which is hard wearing but also allows some water vapour to escape. There are many examples of waterproof coatings, all of which work in a similar way, e.g.
Aquafoil – Berghaus
Hydrodry – Sprayway
HyVent – The North Face
AquaDry – Craghoppers, Dare2B
IsoTex – Regatta
Waterproof Membranes
A layer of plastic (PTFE/Teflon) is created with incredibly small holes, that are too small for rain to get through but large enough for water vapour to escape. This membrane is then bonded to the outer fabric of the jacket. The membrane itself is very fragile, so it is protected from damage in a number of ways:
Using a separate mesh, also known as a 2-layer technology
The membrane is printed with microdots of Polyurethane, also known as a 2.5-layer technology
Using a third layer of fabric bonded onto its inside surface, also called a 3-layer technology
Some examples of waterproof membranes which work in similar ways are:
Gore Tex
eVent
AquaDry membrane
Hellytech
Polartec Neoshell
DWR (Durable Waterproof Repellents)
To complete the waterproofing, most jackets are finally treated in a chemical water repellant, which makes the rain bead-up and run off your coat. This chemical can wear away over time but can be renewed to some extent by the the use of specialist re-proofing products.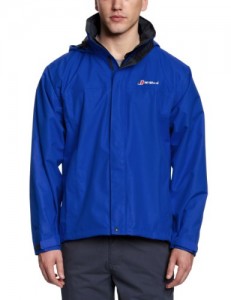 Useful Extra Information
Hydrostatic Head
You will often see figures quoting Hydrostatic Head (HH) ratings of 10,000 or more. This level of HH should keep you completely dry even in the worst weather. There are some really high values of  Hydrostatic Head available, but it's probably not worth paying more money for a jacket that has a rating much higher than 10,000 as the noticeable difference will be negligible.
Breathability
When your exertion levels go up, breathability is nearly as important as waterproofing, since you really want all that moisture to escape the jacket. It's also worth bearing in mind that in humid conditions, breathable waterproof fabrics don't work quite as well as they do in a more dry heat.
Summary
We hope you found this guide useful, and it helps when it comes to buying the best waterproof outdoor jacket for your needs. Why not take a look at our range of outdoor jackets for some fantastic special offers
Save